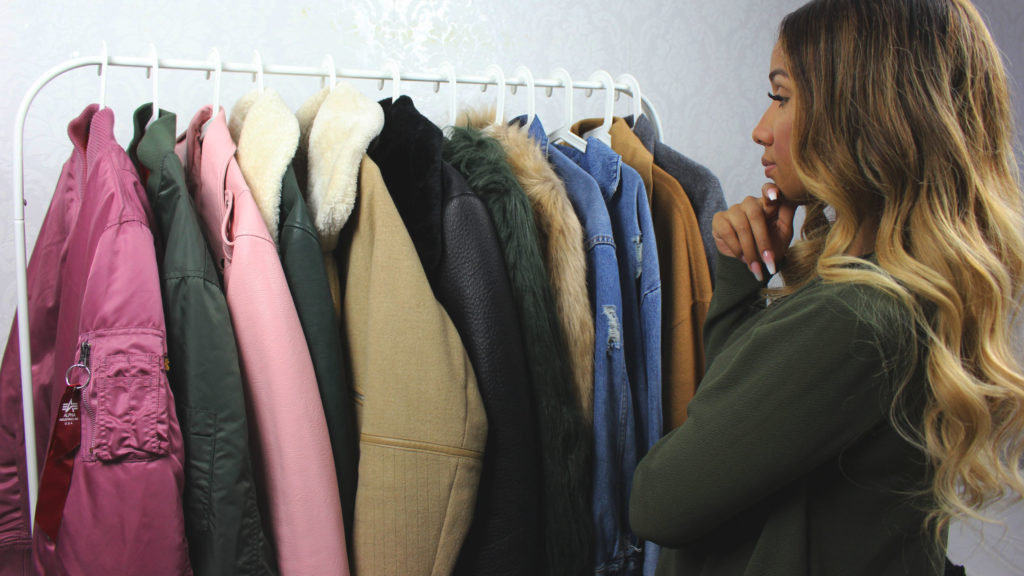 Those that have been following me from the start know how addicted I am to coats & jackets. If I fall in love with a jacket, I HAVE TO BUY IT no matter what! I really can't leave the store without getting it lol. I just love how a cute jacket can turn a boring outfit into an outstanding one. Since so many of you have asked me where I get my jackets from I thought it's a good idea to make a blogpost about my absolute favorite ones for this years A/W season…
1. THE SHEARLING COAT

If you follow me and follow my style then you know the shearling coat is this seasons must-have! My favorite thing about this coat is that it looks just as cozy as it feels. Also, you can have on the most simple outfit but trust me, i can guarantee you all anyone will be focusing on is your coat. You can combine it with some skinny or boyfriend jeans, a simple top and some sneakers for a casual look or some heels for a night out!
Get the look:
ZARA Black Shearling Coat
ZARA Nude Shearling Coat (similar)
2. THE DENIM COAT

Even though it's way too cold outside to wear a denim jacket, it's still a nice piece to have for early Autumn days. I wouldn't recommend a normal denim jacket during this time period but I love the fact that the two I selected are longer than your average. What I like most about them are the distressed details. Pair it with an oversized tee and some thigh high boots for a chic look or some ripped jeans and sneakers if you like it more laid back!
Get the look:
ZARA Long Denim Jacket (similar)
ZARA Denim Coat
3. THE PUFFY JACKET

Puffy coats were a thing of the 90's but I think it's safe to say they're back in fashion! I feel like we're reliving the Spice Girls era when girls wanna dress with more attitude. I chose the Tommy Hilfiger one because it reminded me of my childhood. I obviously couldn't afford it then but when I walked into Urban Outfitters the other day, it had to be mine! The jacket is quite loud so I like to keep the colours simple. I wore this with some blue jeans, white top and red suede Puma trainers. The khaki puffy coat on the other hand is more simple but a stylish winter coat that allows you to wear less layers because you don't have to worry about getting cold.
Get the look:
Tommy Hilfiger Puffer Jacket
ASOS Puffy Coat
4. THE FAUX FUR COAT

Every girl should own a (faux) fur coat! It's just a perfect statement piece for the colder days. They're not only affordable but good value for money as they keep you really warm. I've worn the beige colour more casually during the day, majority of the time with jeans and sneakers where as, the dark green colour is better for evening wear. I say this because the style of this particular coat looks better with heels.
Get the look:
ZARA Beige Faux Fur Coat (similar)
ASOS Faux Fur Jacket (similar)
5. THE LEATHER JACKET

Leather jackets will never go out of fashion! We definitely have evolved from your standard black leather jacket to different colourways and styles. With a leather jacket nowadays there's something for everyone. For a younger look you can go for eye-catching colours and details or for a more elegant look, a simple less complicated style is recommended. I selected these two because I wanted something vibrant this year. I've already expressed my passion for shearling coats so when I saw this biker with the fur collar I fell in love instantly. The cozy look is just this season's thing! My second choice is the pink leather jacket because the details are minimal but the colour is lovely. As you know I keep my outfits very simple so I like to have an item, preferably a jacket, that stands out. Biker jackets really look good with anything. Jeans, skirts, dresses, heels or sneakers – it's really up to you!
Get the look:
ZARA Leather Jacket With Fur Collar
ZARA Pink Leather Jacket
6. THE OVERSIZED COAT

Who doesn't need an oversized coat in this cold weather? Answer is: we all do! I know we've seen the camel coat on every blog and social media platform but truth is, without one your wardrobe is struggling!  I love this camel coat because it's very long in length and the shade is slightly darker than your usual one. Good thing is with a camel coat you can wear it with near enough anything and unlike other jackets, it's suitable for school, uni, work and nights out. This faux sheepskin coat on the other hand is something you rarely see. More often you tend to see the shorter version, so when I came across this one I had to look twice! I describe this coat as coziness at it's highest level. It's so huge that you can barely see what you have underneath which makes it easy to combine. If you still have problems finding something to wear it with then I suggest some simple jeans, boots or sneakers. Make sure your top is light otherwise you'll sweat buckets!
Get the look:
ZARA Longline Camel Coat (similar)
MONKI Kimono Coat
Our mid iron is going to be a little bit more center to slightly forward
Authentic Jerseys Sale
of center, depending on how
Replica Oakleys
aggressive our weight shift is again. While
Replica Oakleys
a driver, up on a tee, it's going to be up closer to our left heel. Both men are Angels now. On Wednesday afternoon at the Oakland Coliseum, Guerra watched as Meyer hardly utilized it in his Angels debut. 15. Tennessee Titans (acquired from Los Angeles)Despite finishing with the worst record in the league at 3 13, Tennessee decided to remove the
cheap nfl jerseys
interm tag on Mike Malarkey and make him the permanent head coach. Check online for templates if you do not want to go into the stores. These online templates are offered free of charge to users. The Eagles starting
cheap jerseys
outside WRs, Nelson Agholor and Dorial Green Beckham caught one pass each last week, so it probably doesn't even matter that Giants CB Janoris Jenkins is questionable for the game. Wentz relies on TEs Zach Ertz and Trey Burton, along with slot WR Jordan Matthews almost entirely in the passing game. Nfl chargers I generally beats audio boy baseball bats with pandora rings big pandora jewellery Jiaozhao fly. Cleveland cavaliers jerseys He lives replica handbags in nike roshe a cheap basketball shoes place pandora far air max shoes from swarovski crystal my home. It's not that Brosnan didn't react at all he did actually slap her on the back but he was hesitant to perform the Heimlich maneuver because they were both naked. Or, to put it another way, James Bond didn't try to save
http://www.fakeoakleysaler.com
a sexy lady's life because he was too embarrassed. Also in our first month, we closed on the acquisition of CS TV, expanding our holdings in the lucrative world of college sports, cable and new media. Plus, we announced our intention to divest Paramount Parks, a great business that just didn't fit with our strengths. You know, he's either going to choke at the point, you know, or he's going to rise and, again, have that Neo moment. He's going to become a champion and.. For the first time, a woman will be one of the full time coaches in the National Football League. The Buffalo Bills made the historic move by hiring Kathryn Smith
nfl jerseys cheap
as a special teams coach. Just how prevalent is CTE among former NFL players? We don't know directly because it cannot be diagnosed during life, but we do know that of 79 deceased NFL players whose brains were physically examined, 76 of them showed signs of CTE. That's over 96%, which means it could be among the largest causes of the very damages that the NFL is being sued for..