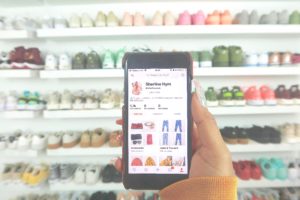 I'm so excited to introduce you guys to my new favourite app SNUPPS. Most of you know how many clothes & shoes I own and organising them is ALWAYS a struggle. Snupps is an app that helps you keep track of things wether that's clothes, make-up or even food – this makes my life so much easier!
The way it works is that you basically create virtual "shelves" which are like categorised folders. You can then take pictures of any item and put it into a selected shelve. I for example created shelves for my handbags, sneakers, jackets and more. Snupps gives you the option to also add where you got the item from or how much it's worth.
As a fashion blogger I tend to buy a lot of similar clothes and sneakers but Snupps really helps me to have an overview of what I already own. When I'm out shopping I can for example easily check on the go if I already own a white unprinted T-Shirt or not. What I also really like about this App is that you can either keep your images private or share them publicly on your Snupps profile. You then have the option to also share them directly to other social media platforms like Instagram, Facebook and Twitter. If you wanna get rid of some stuff you can even list any item from Snupps to eBay and sell it.
Snupps is very versatile as you can not only create shelves but also share "Moments". I really love this feature as I can post pictures of myself and tag what I wear to the exact item on my shelves.
Beside of that "Moments" feature you can also browse through dedicated "Groups". There are some about almost every topic! You can either share your shelves and items in these "Groups" or just take part in some discussions. I have my very own group called "STYLED BY SHERLINA" and I would be so happy if you'd join it. I'm sharing some of my outfits on there and I also wanna see YOURS to give some feedback 🙂 I'm also there for style talks and more!
Let me know if you guys have or get Snupps, here's the direct download link: Click here
Make sure to give me a follow (@Sherlinanym) as I would love to check out how you use your Snupps!