I was so excited when Ego and I launched the SHERLINAxEGO range a month ago! I think this was one of the best moments I've had as blogger. Even though I didn't design them myself, selecting a whole collection and then seeing people loving and buying it, is more than priceless! I was asked so many questions about how they fit and what to wear them with that I just had to make a blogpost about all the info's you need…
Shop the collection HERE
---
"NYM" – THE DENIM THIGH HIGH BOOT
First of all I feel so honored that Ego named these Boots after me lol! Let me introduce to you the "NYM" thigh high boot. I always wanted to have over the knee boots that are made out of denim, only problem – like always – were my "big" thighs. Seriously girls, how hard is it to find these type of boots when you're not skinny? They always squeeze my thighs and it just doesn't look good! With the NYM boots it's luckily completely different – they really do fit as they're made out of a very stretchy denim material. Means, they're perfect for slim AND curvy girls, yay! Besides that I just think it's something new especially to have them with ripped knees. This detail makes them look so edgy!
Nym Dark Blue Denim Boots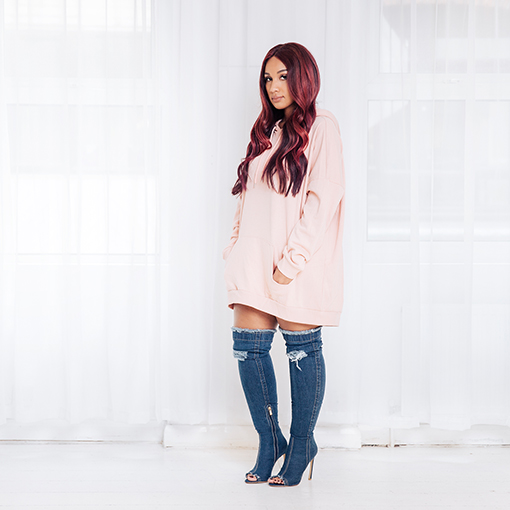 I decided to wear a light pink oversized hoodie with the dark blue version, simply because I'm obsessed with the combination of these colours. If you like it more colourless I'd suggest a black or dark-grey hoodie. You can also wear them with a mini-dress and coat for a night out!
Nym Mid Blue Denim Boots


The mid blue Nym boots are my absolute favourite from the collection! They're like the typical mid-wash blue jeans that go with anything. You guys know I love it simple, thats why I went for an oversized white tee and a panel denim jacket to match the boots. For the colder days I recommend a knitted oversized sweater instead.
Nym Light Blue Denim Boots


If you love nude tones the light blue ones are the perfect choice! I had to put on this knitted cream sweater dress because they look so good with light colours. For a more casual look I would advice a nude oversized hoodie.
---
"ALIZA" – THE PERSPEX HEEL
Who doesn't love some perspex heels? I've been completely obsessed with them! They're the perfect mixture of elegance and edginess as they're suitable for daytime and nighttime. Good thing about the Aliza heels is that the heel is not too high which makes them comfortable even after wearing them for hours. If you have wider feet don't worry as I have the same issue but they fit well!
Aliza Nude Perspex Heels


The nude version of Aliza is my personal fave. These are the perfect heels if you love nude heels but wanna switch it up a little. They look amazing with almost any colour and outfit!
Aliza White Perspex Heels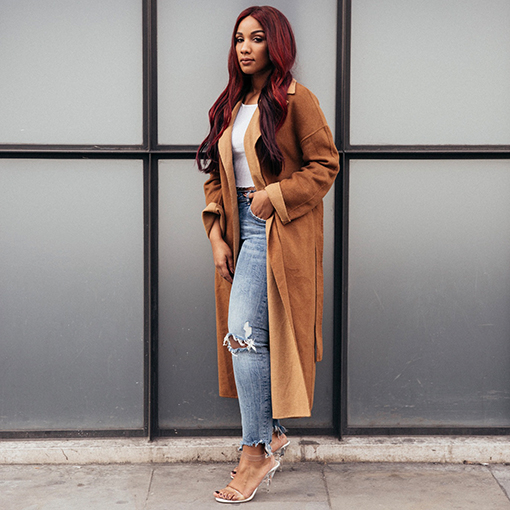 To me white heels can look cheap very easily. I don't even remember if I ever owned a pair of white heels before I got the white Aliza ones. The transparent details on them really turn them into a fancy and trendy pair of white heels.
Aliza Black Perspex Heels


Black heels are probably the most common in every girl's closet but the black Aliza heels are better than your average. Match them with a simple black midi-dress and watch your outfit come to life!